CLAT Focus Current Affairs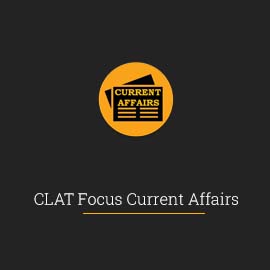 In today's fast changing world, everything has become so competitive that sometimes even better is not enough, it requires only the best. Be it life or be it examination, it is imperative to have the best of the preparations and hence Timely and Timeless preparation is an essence of the success in the competitive examinations.
With increasing relevance of current affairs in past few years, be wise and build the right approach towards your CLAT/Law Entrance Exam preparation.
The very basic purpose of launching this CLAT FOCUS Current Affairs Course is to be able to fulfill the requirement of CLAT, AILET and other major law entrance examinations in an efficient and effective way and helping the aspirants achieving the desired success in those examinations.
Key Features of the Course:
CLAT FOCUS 

Current Affairs 

monthly E- Magazines .

Monthly 100+ important current affairs MCQ.

Complete Coverage of 1 year current affairs.

Clear and precise current affairs for CLAT, AILET and other major law entrance examinations.

In-depth Analysis and understanding of Current Affairs from the CLAT/AILET point of view.

Almost 100+ major topic to be covered.
For more details Please contact our student helpline number 099290-74123