PM Modi calls upon SAARC countries to fight the Coronavirus
Prime Minister Narendra Modi addressed all South Asian Association for Regional Cooperation (SAARC) member countries via video conference to chalk out a common strong strategy to fight the Coronavirus in the region.
o PM Modi proposed the creation of aCOVID 19 emergency fund based on voluntary contribution from SAARC nations. Modi  extednded $10 million as India's contribution for the fund.
o PM Modi said India is assembling a Rapid Response Team of doctors and specialists, along with testing kits and other equipment. They will be on stand-by to be placed at SAARC nation's disposal, if required.
o PM Modi said India has set up an Integrated Disease Surveillance Portalto better trace possible virus carriers and the people they contacted. This Disease Surveillance software could be shared with SAARC partners.
o Apart from Prime Minister Modi, the video conference was addressed by Prime Minister Sheikh Hasina of Bangladesh, Bhutan Prime Minister Dr. Lotay Tshering, Prime Minister KP Sharma Oli of Nepal, President Ibrahim Mohamed Solih of Maldvies, President Gotabaya Rajapaksa of Sri Lanka, President Ashraf Ghani of Afghanisan and Zafar Mirza, Special Assistant on Health to Prime Minister Imran Khan of Pakistan.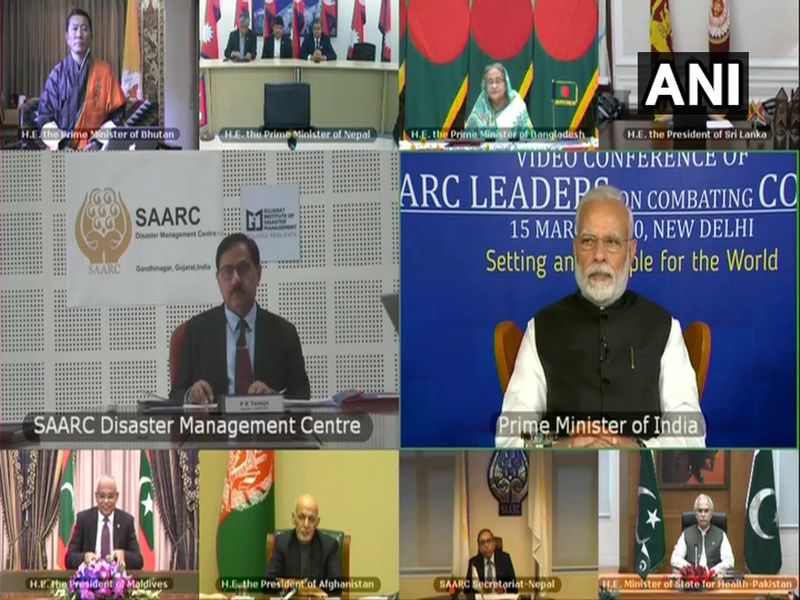 About SAARC:
Its member states are Afghanistan, Bangladesh, Bhutan, India, the Maldives, Nepal, Pakistan and Sri Lanka.
Place founded: Dhaka
Date founded: 8 December 1985
Headquarters: Kathmandu, Nepal